The best way to experience everything Mumbai has to offer in a short and fun trip is through a guided one-day Mumbai local sightseeing package. You don't need to worry about boring things like transportation, schedules, trip itineraries, etc, etc. All you have to do is kick back, unwind, and savor the day while visiting Mumbai's top tourist destinations while our Mumbai tour guide plans your day.
Mumbai, previously known as Bombay, is the coastal capital of the state of Maharashtra and the financial capital of India. It holds a major role in the economic growth of the nation being connected to various countries via the Arabian Sea.
Mumbai is the heart and soul of India and embodies everything from culture to engineering marvels. It's hot, crazy, breathtaking, nonstop, and inspiring! You'll be drawn in by the city's captivating energy which will draw you to want more. Since the city is the most populous in the nation and is spread out over a massive area, there are several places you can't miss out on.
Mumbai offers multiple locations for peace seekers, history buffs, beach bums, foodies, and architecture lovers. However, without proper guidance, it's easy to get lost in the city's narrow lanes and complex routes. That's why Magical Mumbai tours offer a comprehensive Mumbai Tour Guide that caters to the requirements of every thrill seeker.
Whether traveling with your spouse, friend group, family, and children or simply wandering alone, you'll discover various activities suitable for your trip here and spend your valuable time thinking about what to do in Mumbai for one day. Our experienced Mumbai tour guide helps you discover must-see destinations with Magical Mumbai Tours.
Here are 4 places to visit in Mumbai in 1 day or on your one day Mumbai sightseeing trip:
Gateway of India
The Gateway of India, located next to the iconic Taj Mahal Palace overlooking the Arabian Sea, captivates you from all angles. The historical monument was built by the British Raj in 1924, and served as the arrival point for Mumbai dignitaries and as a departure point for British troops after India's independence in 1948.
It also serves as a starting point for ferries to Elephanta Island and the Maharashtra beach resort of Ali Baugh. It's a great landmark that doesn't require much money to enjoy! The Gateway of India is also known as the Taj Mahal of Mumbai due to its historical significance and alluring architecture.
Queen Victoria Railway Station (CST)
Known as Mumbai's most iconic railway station "Victoria Terminus" or "VT" has changed names several times over the years and is one of the city's mesmerizing architectural beauty. This 133-year-old heritage building is one of the biggest, busiest, and most beautiful railway stations in the country. It is a must-see sight for your one day Mumbai local sightseeing experience.
The Railway Station, a UNESCO World Heritage Site, is the headquarters of the Central Railways and has excellent access to all parts of the country. The building's Victorian-Gothic Revival architecture transports visitors to the colonial era, where they can marvel at the wonders of its architectural beauty. So if you're an architecture fanatic, be sure to go inside and admire the wonderful ceilings of the old reservation hall.
Colaba Causeway
We all have friends who believe shopping is the most effective form of therapy, don't we? The Colaba Causeway is every shopper's paradise with a hypnotic collection of fashionwear and antiques. After you've finished your retail therapy, it's time to begin your gastronomic therapy near Colaba Causeway. Visit one of the city's many food streets for a blast of flavors in the form of pav bhaji, vada pav, kebabs, and sandwiches, with our Mumbai food tour. You'll surely have a great time shopping for everything from affordable clothing to fashionable designer wear, home décor items to jewelry, and everything in between, with so many stores stocked with goodies.
The "Queen's Necklace" and Marine Drive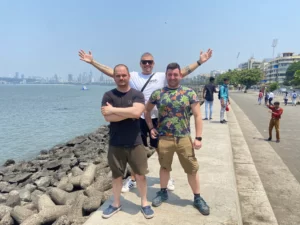 Named after its night-time streetlights, Marine Drive is said to resemble a string of pearls along the Arabian Sea. It's the go-to spot and anyone looking to take a stroll along Mumbai's oceanfront for some fresh air and is one of the most recognizable landmarks in the city. It's a sin to not appreciate Marine Drive's view if you're in the city. Because of its popularity, Marine Drive is almost certainly included in any Mumbai City Tour you book.
The spacious seaside pedestrian walk, which is very clean and tidy, is the most appealing aspect of Marine Drive. The diversity is also wonderful; you'll see people of all different ages and backgrounds sitting here, gazing out at the vast sea. Marine Drive is the best place to visit in Mumbai because of these moments of nonchalance and the soothing sea breeze.
All these places are surely going to keep you busy on your Mumbai day trip itinerary and answer the most asked question, how to spend a day in Mumbai. With Mumbai Tours, you can see some of Mumbai's highlights and would surely return to learn more. Our local and experienced tour guides help you get around the city safely and efficiently. So book your tickets and get your bags ready to explore these incredible destinations in the city of dreams.