Dharavi is a sprawling slum in Mumbai and home to an estimated of over 700,000 people. Dharavi slum Mumbai is famous for its thriving leather and pottery industry. The leather and pottery industry are the most prominent industries inside the Dharavi slums of Mumbai. These industries in the Dharavi slum date back to the 1920s.
Tamil migrants set up the tanneries in Dharavi and later migrants from other parts of India entered the trade. The leather industry in Dharavi was established to supply shoes, harnesses, and leather goods to the British army and administration. The tanning industry of the Dharavi slums of Mumbai India during the 20th century experienced a significant growth spurt because of the increase in demand for leather goods. People from different parts of the country migrated to Mumbai, to work in the leather industry. Over time, Dharavi tanneries developed into small-scale, family-run industries. The raw hides were sourced from various parts of the country and then processed through a series of stages, including soaking, fleshing, liming, and dyeing. The finished leather was then used to manufacture leather goods.
The pottery business in the Dharavi slums began in the 1930s when a group of Gujarati potters moved to Mumbai and settled in Dharavi. The potters brought the traditional craft of pottery making and started making and selling clay pots and other earthenware items in Dharavi and the surrounding areas. The pottery industry in Dharavi grew over time as more potters moved to the area from other parts of the country. Dharavi now has a large community of potters who work in small, family-run workshops.
The traditional pottery industry of the Dharavi slum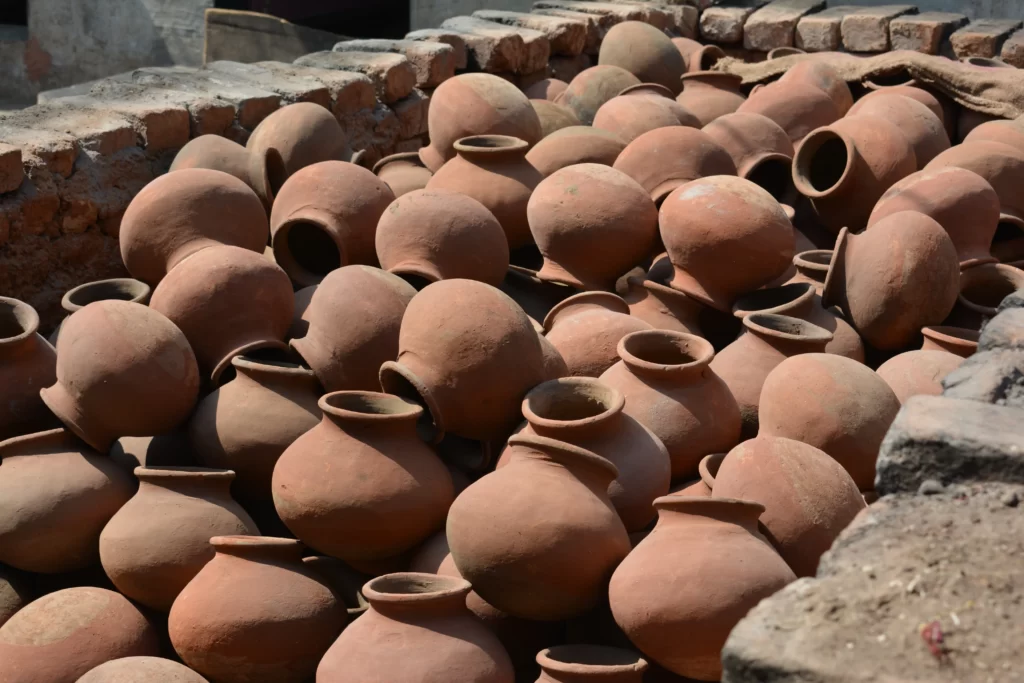 In India, potters make up a whole caste, better known as Kumbhar. The word stems from the Sanskrit words Kumbh, meaning earthen pot', and kumbhakar translates to 'earthen pot maker. The Kumbhars are the very first settlers of the slum and are a significant part of the population. The word Kumbharwada is formed by the combination of two words, kumbhars potters) and wadi which means colony. There are approximately 500 potters' families living in the colony, including permanent and temporary residents.
Discover the beautiful legacy of pottery in the Dharavi Mumbai slum
Potters in the Dharavi slums of Mumbai use handcrafted techniques to make pottery. The potters get ray clay from Thane, a district close to Central Mumbai, and also from far-off places like Bhuj and Kutch, located in the state of Gujarat. This rich craft of India has been passed on to six generations of slum dwellers; some today are the seventh generation that has been practicing pottery to make a living. Our Dharavi tour helps you explore this rich tradition of pot-making first hand providing you with the experience of a lifetime.
Clay is used with indigenous and traditional methods to make eco-friendly pottery items. The clay is molded in the desired shape by hand or on the potter's wheel. The clay is kneaded with the feet and put in the pit for 15-20 days to melt. The kneading process is followed by wedging, which is done by hand to remove bubbles from the clay before shaping. After shaping, the pottery is left to dry in the sun. Finally, the pottery is fired in a kiln, which hardens and strengthens the clay, resulting in a long-lasting and durable product.
Dharavi pottery is known for its distinct styles and designs, which are influenced by local culture and traditions. Numerous pottery products have intricate patterns, designs, and colors and are made with the dual purposes of function and decorative elements in mind. Based on seasonal needs, clay artists create items. In two to three months, they can produce between 25,000 and 30,000 pots for sale.
To address modern technology's challenges to potters, efforts have been made to promote the pottery industry in the Dharavi slum, creating opportunities for potters to access modern technology and equipment. To increase their productivity and product quality, some potters have begun to use electric pottery wheels and other contemporary tools.
Thriving leather industry of the largest slum
With approximately 15,000 people employed in the Dharavi leather industry, it is an essential source of income for many people in the area. Our Dharavi tour will show you the various types of leather products made in Dharavi, such as shoes, bags, belts, wallets, jackets, and more. These items are created using traditional techniques handed down from generation to generation of artisans.
Tanning is an important process to make those beautiful leather items. In recent years, tanning is handled by the government to avoid the harm it does to humans and the environment. To ensure that the chemicals used are disposed of responsibly, the government conducts the tanning process in two hubs, which has helped in monitoring the process for items produced in Dharavi.
Following the tanning process, the leather is then cut into pieces of different sizes and sewn together to make different leather items. To create durable and robust seams, the craftsmen use traditional hand-stitching techniques.
The largest slum in Mumbai has built a flourishing industry that uses age-old methods to create products of excellent quality. To add decorative elements to their wide range of items, artisans in the Dharavi slums of Mumbai use methods including embossing, stamping, and painting. Some slum-based artists are skilled at weaving or applying leather to create elaborate patterns. You will be able to experience all of this life in our Mumbai city tour of Dharavi.
How do the two industries aid the communities in Dharavi?
The two industries largely contribute to the overall economy of Mumbai city. Dharavi slum works on a concept called 'circular economy,' which has several environmental benefits. All leather scraps in Dharavi are converted into energy and repurposed in slum industries like pottery. Reusing textile and leather scraps from earlier businesses they help fuel their economy and save on fuel expenses for other sectors like bakeries and potteries that mass create and distribute around Bombay.
Take a fun and unforgettable trip with us as we explore Dharavi, one of Asia's largest slums, with a local Mumbai tour guide. Our Dharavi slum group tour provides a unique chance to learn about Dharavi inhabitants' difficulties while also getting a glimpse into their daily lives and entrepreneurial spirit. Alternatively, you can tailor the experience to fit your time and interests with our private tour. Whatever you decide, you'll leave with a better understanding and respect for this amazing place and its people. So book your Mumbai city tour at the best prices on Magical Mumbai tours.